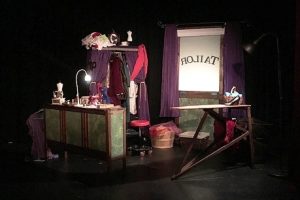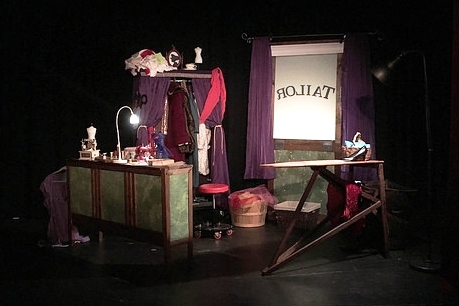 One Weekend Only! Friday, July 12 @7pm, and Saturday, July 13, @11am & 3pm
Meet the Fairy Tailor, hard at work in her enchanted shop, where dressing racks and laundry baskets are known to have a mind of their own. Watch as she transforms everyday garments into extraordinary characters, and shares stories of bravery, from "Little Red Riding Hood(ie)," to "The Emperor's New Clothes." With the audience's help, the Fairy Tailor summons the courage to take a stand against a giant, crafting a solution that combines cleverness with creativity. This colorful, interactive production is guaranteed to inspire audiences of all ages.
Recommended for all ages 4 and up. Multiple puppetry styles. Length: 45 minutes. 
About the Artist
Sarah Nolen is a puppeteer and filmmaker originally from Austin, Texas. As Puppet Showplace Theater's resident artist, she performs regularly for youth and family audiences and teaches puppetry in camps, workshops, residencies, and evening adult classes. Sarah earned her BFA in film from Southern Methodist University, and an MFA in Puppet Arts from the University of Connecticut. Known nationally for her versatile, witty, and innovative work across multiple puppetry styles, she has appeared in the National Puppet Slam, at the Puppets in Paradise Festival, and the Out of Bounds Comedy Festival. Sarah has toured internationally as part of the ensemble for Reverse Cascade, and has performed as principal puppeteer for the immersive multi-media show Pip's Island in NYC. In Boston, she has worked closely with the Boston Pops Orchestra, performing as a puppeteer/narrator of "'Twas the Night Before Christmas," and again as a designer/builder of the Arthur Fiedler puppet for "Puppets Take the Pops." In addition to her work in puppetry, Sarah is an experienced filmmaker with credits that range from reality shows and commercial broadcast TV to Indie features and web ads. In 2015, she received the Mister Rogers Memorial Scholarship in support of her television pilot Treeples, a show geared towards empowering girls, which screened at film festivals across the U.S.
CMT's Guest Artist series is committing to bringing SC audiences quality performers from around the Southeast, highlighting the diversity and range of puppet theater. Funding provided by the City of Columbia.