Celebrating a birthday — or any special occasion — at the puppet theatre will be a party your child or group will never forget! Daycares, preschools, church groups, sports teams and scout troops are all welcome. We have 4 themed party areas to choose from –- Undersea Kingdom, Dino Park, Land of Oz, or the Medieval Castle.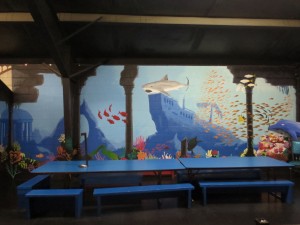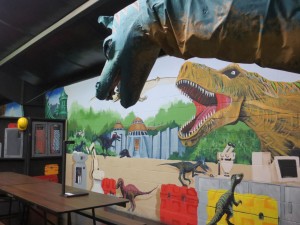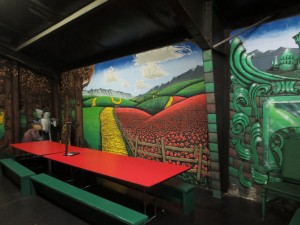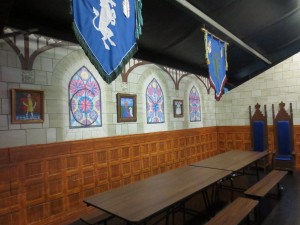 All of the Columbia Marionette Theatre parties include:
The use of a themed party area for two hours
A special gift for the honoree courtesy of the theatre
Priority seating for a performance of our current production
How our parties work:
Parties can be booked for any Saturday at either 10:00 a.m. or 2:00 p.m.
10:00 a.m. parties:You arrive at 9:45 a.m. (not before please), your guests arrive at 10:00 a.m., you have your personal party until 11:00 a.m. when the puppet show begins. Everything wraps up by noon.
2:00 p.m.:You arrive at 1:45 p.m. (not before please), your guests arrive at 2:00 p.m., you have your personal party until 3:00 p.m. when the puppet show begins. Everything wraps up by 4:00 p.m.
Parties cost $75 plus $5 per child (minimum of 6). Adults admitted at no charge.
The $75 is a non-refundable reservation fee and must be received no later than one week before the date of the party.
For double birthday parties, there is the option to pay an $95 reservation fee which adds a second gift and an extra row of reserved seating.
Our party areas are in high demand. Regrettably, if your reservation fee is not received by the due date, we reserve the right to re-book the party area.
 Other Important Information
Each party area sits 25-30 children and includes one 8-foot table and one 6-foot table, as well as eight benches for the children and chairs for the adults. All party areas are the same size.
You must provide all food, drinks, plates, cups, utensils, etc.
Lighted birthday candles are permitted.
No noisemakers, confetti, Silly String, glitter, pinatas, gum or popcorn.
Do not affix anything to the party area walls.
Please clear tables and put all trash in the provided trash cans after the party.
Please remember that while this is your birthday or special occasion party, the puppet show the children will see is a theatrical performance. Your help in having children demonstrate proper theatre etiquette is appreciated.
Please restrain your children from running in the theatre.
Entertainment Guide coupons and other special passes or coupons are not valid for parties.
Booking
To book a party, please contact Alex Hoffmann at alex@cmtpuppet.org or 803-252-7366 with the following information:
Date and time requested (10:00 a.m. or 2:00 p.m.)
Party area requested
Your full name and the birthday child's name and age
Your mailing address with zip code
A daytime and evening phone number with area code
You may pay the reservation fee by phone or in person (by arrangement).