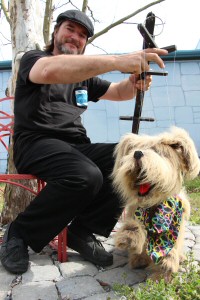 John Douglas Scollon (Executive Director, Puppeteer)A second-generation puppeteer, John Scollon has been around puppetry and performance all his life. He was touring nationally by age 15, and co-founded The Columbia Marionette Theatre in 1988 with his mother, Allie Scollon. Twenty five years later, the theatre has grown to become one of the premier family attractions in South Carolina, producing classic and original stories for its 250 seat theatre, as well as touring the state extensively with educational programs. Today CMT averages around 450 performances per year… and John's work can be seen and heard in every one of them. Along with his duties at CMT, John is also a professional musician with and album to his credit (John Scollon & Bitteroot – Where Eagles Fly). Currently, He and his wife Karri perform regularly with a local band called Stillhouse.
---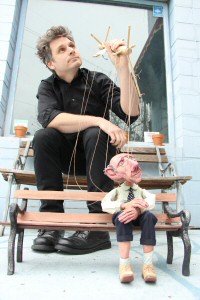 Lyon Forrest Hill (Artistic Director, Puppeteer)Lyon studied painting and printmaking at Savannah College of Art and Design, University of South Carolina, and University of New Mexico. He joined CMT in 1998, first as a performer and later becoming lead puppet maker. In 2007, he attended the Puppets in Prague workshop, a marionette carving workshop conducted by master woodcarvers in the Czech Republic. He has directed nine productions for CMT. His production of Frankenstein has been performed at regional and national puppet festivals.His wife is artist Jenny Mae. Together they have two children, Oliver Amsterdam and Huxley Forrest. In addition to his work in puppetry, he creates paintings, comics, and short films. His puppet short films have been included in the video series Handmade Puppet Dreams, curated by Heather Henson, and shown around the world. His film Junk Palace has received an UNIMA citation, one of the highest honors in the puppetry community. His solo puppetry work has been featured in three National Puppet Slams and the Casteliers Festival in Montreal, Canada.
---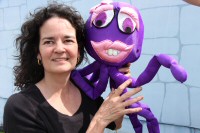 Karri Roper Scollon (Business Manager, Puppeteer)Karri Roper Scollon was born in a small, upstate South Carolina town which shall remain unamed.   As soon as she graduated from high school, she came to Columbia to attend the Universisty of South Carolina. She attained a degree in Psychology there, followed by a degree in Human Services at Midlands Technical College, before later returning to her hometown to pursue a degree in English at Clemson University.  Still, Columbia drew her back.  She was in this town, teaching, doing costume design, and singing on the local blues circuit when she met John Scollon.  They fell in love and were married in 2002 in a grand medieval/fantasy wedding at the Columbia Marionette Theatre.  Their marriage coincided with the retirement of co-founder of the theatre Allie Scollon.  At this juncture, Karri took over much of the costume design and soft puppet creation for CMT, under the gracious tutelage of her new mother-in-law.  Karri continued teaching until 2014, when the theatre's need for a full-time business manager became more important to her than continuing in the field of academia.  Now, Karri handles the office side of things at CMT, freeing up the others to pursue more artistic endeavors.  She still does most of the costuming and frequently goes on the road performing traveling shows.  She also still sings on the local music circuit, and she and her husband frequently attend music festivals in their restored 1972 camper.  They have three cats, all rescue animals, and a house they built themselves on the last patch of woods in Chapin, where they host their own annual music festival.
---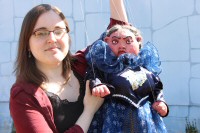 Samantha Scollon (Office Manager, Puppeteer)Samantha Scollon is a third-generation puppeteer. Her grandmother, Allie Scollon, founded the Columbia Marionette Theatre in 1989, and Samantha literally grew up surrounded by puppetry. She began working at CMT as a volunteer at the age of 14, running the cash register and lobby during performances. At sixteen, she began performing both travelling shows and main-stage puppet shows, and has been a fixture on the Marionette Theatre's "weekend crew" for some time.  She has a Bachelor's Degree in International Business from the College of Charleston, and is an aspiring musician.
---
Rebekah Lane (Promotions, PR, Puppeteer)
Alex Hoffmann ( Puppeteer)
Jonathan Lane (Puppeteer)
Tinsley Long (Puppeteer)