Saturday, April 22 at 11:00am and 3:00pm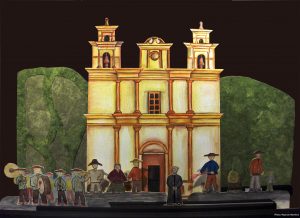 Presented by Facto Teatro, Don Chico con Alas (Don Chico with Wings) is a story about a man who lives in the mountains of Chiapas, México. To travel from one village to another he must come down the mountain, cross the jungle and the river and then climb up the opposite hill. The road takes many hours and is hard work so he decides to build a pair of wings out of reeds and palm to fly across. Don Chico con Alas is a history of ingenuity, creativity, surrealism, and human adventure, which reminds us that–for some–the sky is the limit.
Facto Teatro is a company dedicated to the creation of theater shows for the public. Founded in 2007 by its director, Alejandro Benítez, Facto Teatro has sought to experiment with very different ways of approaching the scenic space through acting, oral narration, manipulation of flat puppets, live music and the combination of languages ​​as varied as Spanish, English, German, Catalan and French. It is currently based in Mexico City.
Facto Teatro hosts a two day Puppetry Workshop at CMT!
When: Thursday, April 20 and Friday, April 21; 6 – 8 pm

Participation is free!
No experience necessary.
Adults only.
One of Facto Teatro's main objectives is to disseminate the techniques of the paper theater in México and across stages worldwide. Facto Teatro is always in search of a genuine artistic collaboration and this spirit is what has allowed them to showcase in places all around the globe such as France, Spain, Germany, Poland, Argentina, and the United States.
Join Facto Teatro founder Alejandro Benítez for this two-day workshop, where participants will create their very own unique paper puppet show!
Save
Save
Save